2019-02-08, 02:21 AM (This post was last modified: 2019-02-08, 02:45 AM by SpaceBlackKnight.)
Kind of related, but I'm watching ROTLD on (free with ads) provider TubiTV
https://tubitv.com/movies/334159
Of course it's the old master pared to what seems to be the original mono with YFI in place of Dead Beat Dance of course. Visually, aside from the recent MGM logo added at the start and end, I found this.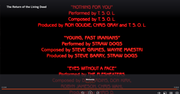 For a min I though they were using the SF 2k master, but has the same color timing as the MGM HD master throughout and stood consistent with no noticeable quality jumps. This version of the end credits aren't on the SS or MGM discs, but could possibly stem back to the 2002 MGM DVD (the one with the 4:3 version?).
Edit: Also discovered the stream on Prime Video US (with membership) is also this same version, while the one that is available to purchase on AV is the MGM BD master with the altered 2.0 mix, MGM Lion with URL, and "Dead Beat Dance" in the credits.