So the other day Buster D emailed me about Full Metal Jacket pcm i synced. The sync was perfectly fine other then a small glitch in the original ld rip that was easily fixed. The other problem was the very end of the movie or end of the LD pcm file. This occurred when muxing the pcm with the movie in tsMuxeR. Tsmuxer would add a loud 300ms or so noise at the end of the pcm file. I demuxed a pcm from a movie i didn't sync which was Batman, PDB synced this LD. Same loud noise at the end of the file. Buster D wrote me back and said even LDs he synced then demuxed had the same problem. Yes i have tried the newest tsMuxeR with the same results.
You could just go into setting (splitting/cutting)  in tsMuxeR to remove part of it getting rid of the noise.
Here's what the noise looks like....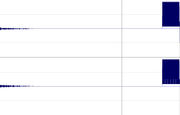 Could you guys maybe demux some movies with LD pcm files and open them in a audio editing program to see if the same thing is happening?
(This post was last modified: 2015-04-18, 02:17 PM by DoomBot.)