I just captured my (hitherto sealed and pristine) copy of THE SWORD IN THE STONE to check the audio out. And I'm sort of equally horrified and thrilled that it's an excellent demonstration of how distributors make a complete mess of "restoring" mono soundtracks on home video presentations because they presumably think people are all stupid and will complain about tape hiss if they don't remove it, even though removing it completely destroys the sound overall. Consider this my incredibly simplistic attempt at @moshrom's schtick.
Firstly, the packaging is wrong. This is the second time today I've had a LaserDisc sleeve lie to me. Earlier on I captured my letterboxed widescreen edition of LES MISÉRABLES: THE 10TH ANNIVERSARY CONCERT, only to find that despite the sleeve proudly proclaiming that it contains the "original 16:9 high definition aspect ratio", it's actually heavily cropped 4:3 which means it's identical to the 4:3 copy I already captured. Now, I see this sticker on THE SWORD IN THE STONE...
Quote:Available for the first time on home video: Walt Disney's original mono soundtrack mix on the analog channels.

Enhanced stereo soundtrack mix located on the digital tracks.
... but when I capture it, this is immediately proven false. What it actually contains is two different versions of the mono soundtrack, one on analogue and digital left,  and one on analogue and digital right.  And holy crap, what a difference there is between them.
The left channel sounds pretty fantastic, plenty of magnetic tape his left in and the frequency response is fairly balanced. The right channel on the other hand has clearly had a very ham-fisted "restoration" job to remove all the tape hiss and general analogue noise, which makes it sound absolutely atrocious. Y'know, the old clock radio syndrome: somehow managing to sound muffled and too thin/brittle at the same time. So remarkably obvious is this difference in quality that somebody's commented on the LDDB page that the *right* channel is the original mono, presumably assuming that it must be the older/unrestored version because it sounds absolutely awful next to the much better left channel, thus the better sounding one *has* to be the "restored" version. But no, this is just what happens with mono soundtracks that have audible tape hiss.
Check this s**t out: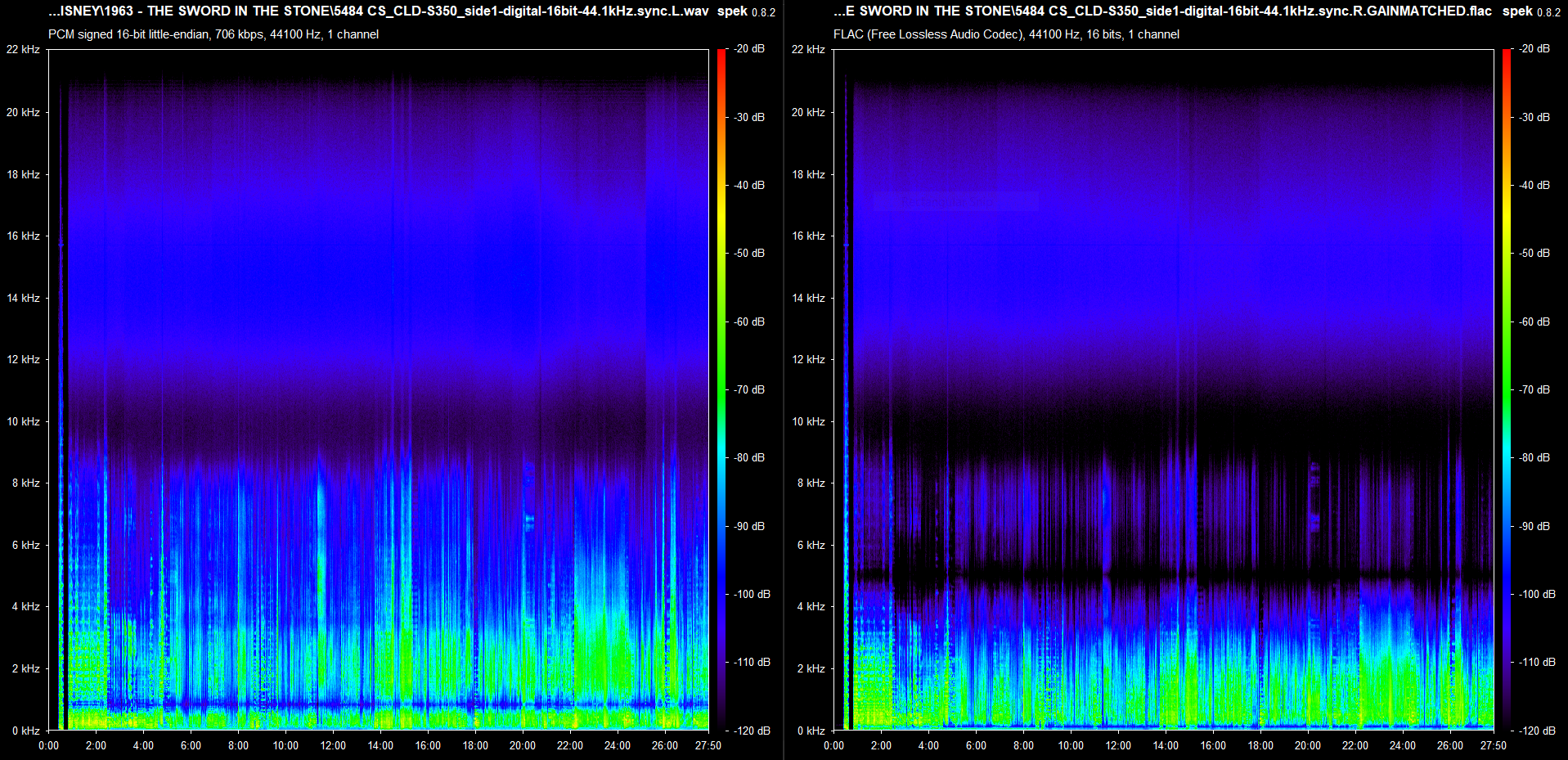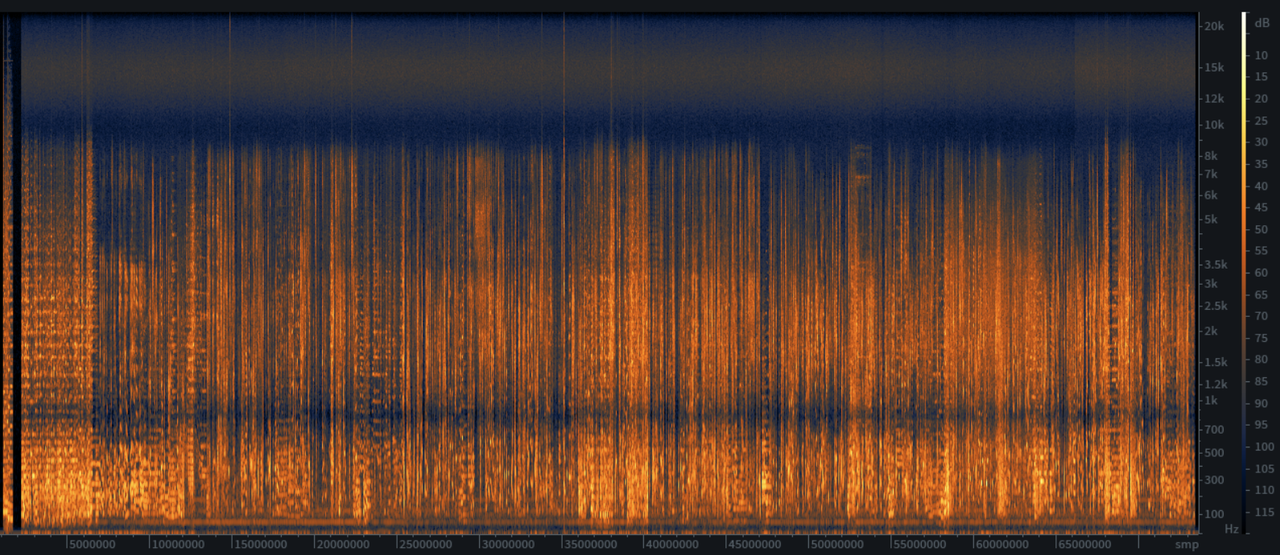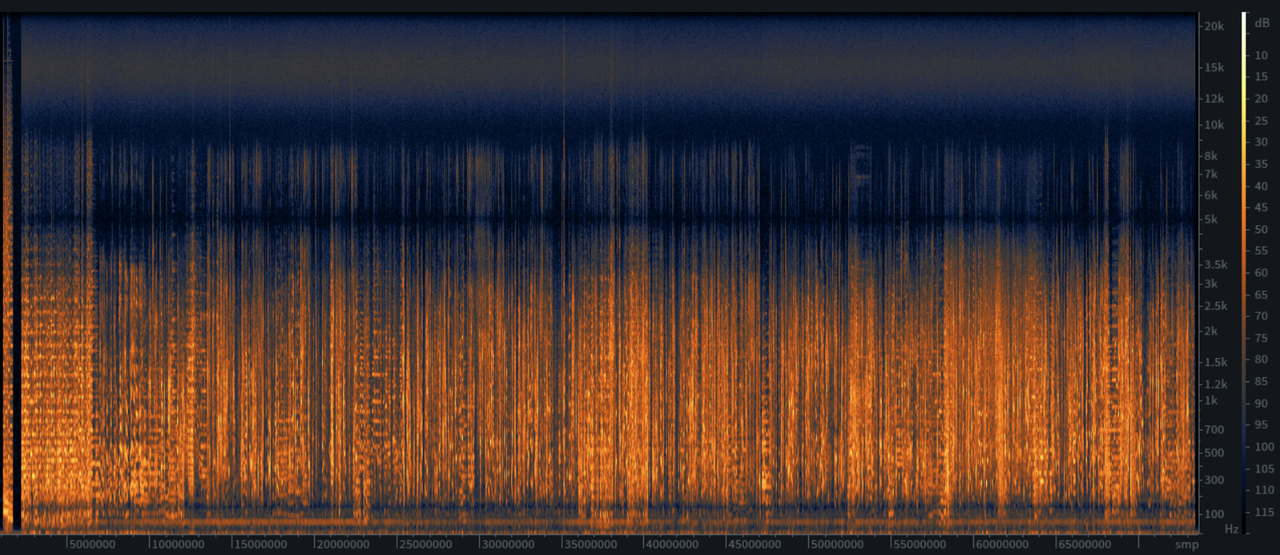 To demonstrate what I mean about how bad this sounds, here's a quick back-and-forth sample of the start and then an early dialogue scene. One version is kept in the channels they're in on the LaserDisc (so panned to left and right, I've just muted one channel or the other in an alternating pattern) and the other is centre-panned as 1-channel mono.
2ch (L/R panned as stored on LaserDisc):
https://mega.nz/#P!AgHy2SJNBsOFVUZkbYoDE...W5JJSRM6hA
1ch (mixed down / centre panned):
https://mega.nz/#P!AgEHH1JVAkpONJ9WwmD-i...PEPsh08XMw
pw =
The right channel, as you can hear, is extremely muffled whilst also sounding very thin, as if it's being played through a tiny speaker (think clock radio / Game Boy) with a cloth draped over it or something. This is the sound of mono soundtracks in 2020, thanks to Criterion et al. It's really sad.