The African Queen (1951)... need a regrade?
5 Replies, 1248 Views
DVD: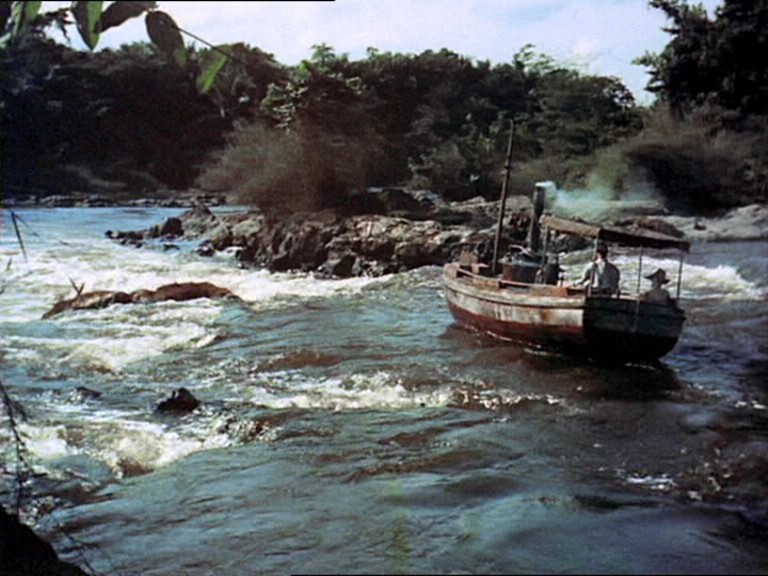 Paramount Blu-ray: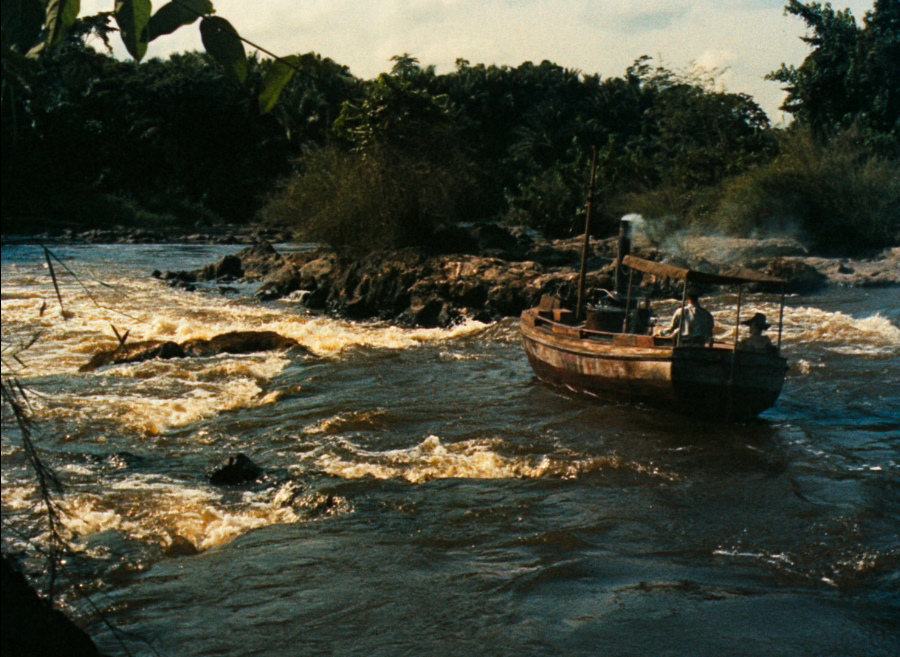 This movie should look like the Blu-ray disc? Yellow water?
The whites on that DVD screenshot are blown out.

Technicolor tended to be a LOT warmer than we're used to today.
(2021-04-01, 06:57 PM)

Hitcher Wrote: Images not working.
I'm supposing he tried to pull up the images from
here
.
(2021-04-01, 06:19 PM)

Onti Wrote: This movie should look like the Blu-ray disc? Yellow water?
According to film historian and film restorer Robert Harris.
Quote:Look at any original dye transfer print, and certain things become extremely obvious. Contrast was always inconsistent -- I have no idea where the film was processed, how long it sat before getting shipped to the lab, under what conditions it was shipped -- color is occasionally on the murky side from natural lighting, and early matte shots combining the Queen with backgrounds look precisely like what they are.

...

Several years ago, an original print was taken to the UK and run for DP Cardiff, with notes taken by the studio's Barry Allen. These must have come in helpful toward bringing this disc to fruition.

So there you have it. The African Queen finally arrives in not only DVD, but Blu-ray from Paramount. And to my eye, it looks as it should. Grain has an overall natural appearance, with only an occasional hint of it holding in place. Color and densities are what they should be. Here is one of the true classics of the cinema, in rare and near perfect form, scanned in the UK, put together, color corrected and readied by Warner's MPI in Burbank. If you feel the need to write a letter to the studio and thank someone, aim it directly toward Ron Smith.
https://www.hometheaterforum.com/communi...ay.292975/
It's difficult to know what the film is supposed to look like without an original 1951 Technicolor print to compare it to.
The screenshot you provided is from the UK Carlton DVD, and the DVDBeaver caps look far too red.
If you have a laserdisc player, perhaps look into the "remastered" 1994 laserdisc release.
https://www.lddb.com/laserdisc/05740/812...-Queen-The
I don't have a laserdisc player, but I noticed something else on the Blu-ray. The opening credits appear to be changed. Main titles with a horrible white (modern) lettering and there is no logo at the beginning.
(This post was last modified: 2021-04-03, 04:37 PM by Onti.)
Possibly Related Threads…
Thread
Author
Replies
Views
Last Post
[Proposal] The Abyss (1989) Theatrical Cut [regrade]
spoRv
6
362
2022-02-12, 02:15 PM
Last Post: Johnny-5
Blood Simple Regrade
IcePrick
12
9,495
2022-01-07, 05:37 AM
Last Post: The Aluminum Falcon
[Proposal] Alien (1979) UHD regrade
spoRv
10
3,816
2021-10-01, 07:58 PM
Last Post: spoRv
The King and I (1956)… need a regrade?
Onti
2
721
2021-04-01, 05:56 PM
Last Post: Onti
[Idea] Ghostbusters (1984) - HDTV regrade
spoRv
23
8,060
2021-02-13, 01:04 AM
Last Post: weegee2392
[Proposal] Sleepy Hollow (1999) - UAR + 35mm regrade
spoRv
5
1,704
2020-10-16, 01:45 PM
Last Post: maksnew
[Request] Troy (2004) Theatrical Cut Regrade to D.C.'s BD
myllaki
2
1,202
2020-07-16, 01:01 PM
Last Post: Chewtobacca
Terminator 2 Director's Cut 2160p Regrade
Kreeep
4
2,258
2020-07-07, 03:27 PM
Last Post: Kreeep
[Idea] Back To The Future (1985) Theatrical Regrade?
DatSWGuy
7
2,257
2020-07-04, 09:09 PM
Last Post: dvdmike
[Idea] A Better Tomorrow correction/regrade?
Serums
2
1,201
2020-06-06, 04:27 AM
Last Post: Serums
Users browsing this thread: 1 Guest(s)