I'll gather some interesting info found around the web about AOMedia Video 1 a.k.a.
AV1
here, in no particular order; feel free to add more!
---
This is very interesting for fan preservation purposes; tested personally, it works quite well - it's like to overlay a grain plate, but with grain synthesis it should not be encoded, hence you can expect similar quality for grainy sources but obtained at lower bitrates.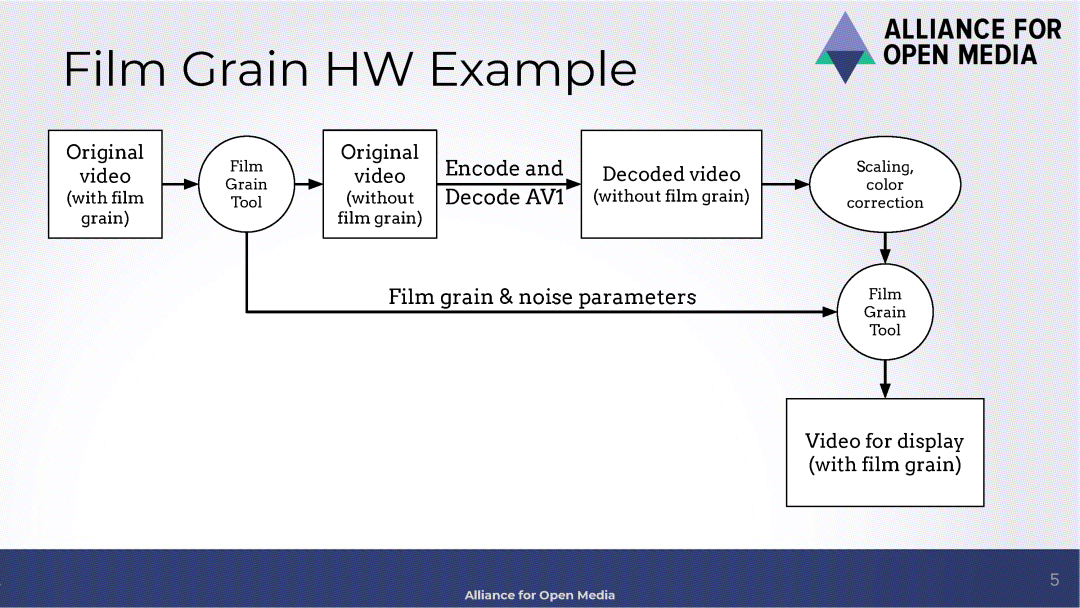 source:
https://chowdera.com/2021/05/20210515173437952m.html
---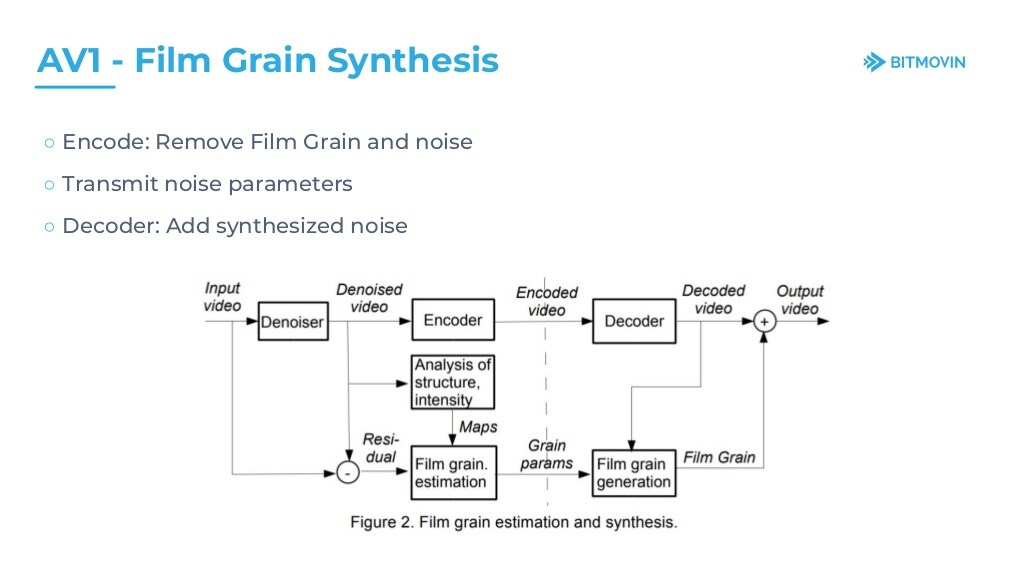 ---
A post on reddit about grain synthesis:
https://www.reddit.com/r/AV1/comments/n4si96/
---
I strongly encourage you to take a look at the following paper - at least at the comparison images; you can see how similar the synthesized grain pattern is to the original grain!
Film Grain Synthesis for AV1 Video Codec:
https://norkin.org/pdf/DCC_2018_AV1_film_grain.pdf
---
MPEG-DASH Adaptive Streaming with AV1 by Mozilla and Bitmovin:
https://demo.bitmovin.com/public/firefox/av1/
Well, "Tears of steel" (2.40:1) at
[email protected]
looks very good to me - it is 4mbps for a full frame 1080p video, hence 16mbps for 2160p; so a whole UHD movie could be fit on a BD-25 with enough space for lossless audio track(s)!
---
AV1, VP9, HEVC and AVC codec comparison:
http://video.1ko.ch/codec-comparison/
---
Best Video Codec: An Evaluation of AV1, AVC, HEVC and VP9:
https://bitmovin.com/av1-multi-codec-dash-dataset/
and related paper
Multi-Codec DASH Dataset:
https://arxiv.org/pdf/1803.06874.pdf
AV1 bitrate gain on HEVC at UHD resolution is up to almost 44%
---
Navigating a Multi-Codec World:
https://www.streamingmedia.com/Articles/...45580.aspx
---
DVB Selects AV1 With AVS3 And VVC As Candidate Codecs For Standardization:
https://www.thebroadcastbridge.com/conte...ardization
---
Bitmovin's AV1 Encoding Gift Guide:
https://bitmovin.com/av1-encoding-gift-guide/
---
Update: 2021-12-27:
Aurora1 AV1 Encoder - comparison with AVC:
https://www.visionular.com/en/products/a...v1-encoder
[email protected]
Vs
[email protected]
---
AV1 vs HEVC: Perceptual Evaluation of Video Encoders:
https://mile-high.video/files/mhv2018/pd...3_Wang.pdf
AV1 average bitrate saving of 30% compared to HEVC
---
A Method of Codec Comparison and Selection for Good Quality Video Transmission Over Limited-Bandwidth Networks:
https://www.ncbi.nlm.nih.gov/pmc/article...-04589.pdf
AV1 average bitrate saving of 37% compared to HEVC
---
Update: 2022-01-04:
Testing EVC, VVC, and LCEVC: How Do the Latest MPEG Codecs Stack Up?
https://www.streamingmedia.com/Articles/...eID=150729
So when VVC and AV1 are not tuned for VMAF, the former is merely few percent points better than the latter - and still VVC does not use grain synthesis and is royalty burden.
---
Update: 2022-01-05:
Intel To Ring In 2022 With New, Faster AV1 Encoder Release
https://www.phoronix.com/scan.php?page=a...-088&num=1
---
Sadly my projects are lost due to an HDD crash...
Fundamental Collection | Vimeo channel | My blog