spoRv Gauge calculator
5 Replies, 1939 Views
Revised version online; biggest difference is that now the codec constant change according not only on the type of codec, but also according to the resolution; before that feature was applied only to HEVC, VP9, AV1 and VVC, but there were grouped in only three tiers; now there are five tiers (SD, 720p, 1080p, 2160p, 4320p) for any codec.
More, I added the dynamic range, and three HFR frame rates; to see the changes in details, check here:
https://blog.sporv.com/sporv-corollaries...ush-gauge/
or read directly the formula without all the changes here:
https://blog.sporv.com/restoration-tips-sporv-gauge/
I made several calculations, compated to various studies online, and now the results are more in line with them.
I'm pretty sure the 10bit encoding should not take 1.25x an 8bit encoding, as well as 48fps should not take 2x a 24fps, but I didn't find any paper scientifically significant. Pretty sure about bit depth, though.
Of course what you get it's only an idea, so take it with a grain of salt! (pun intended)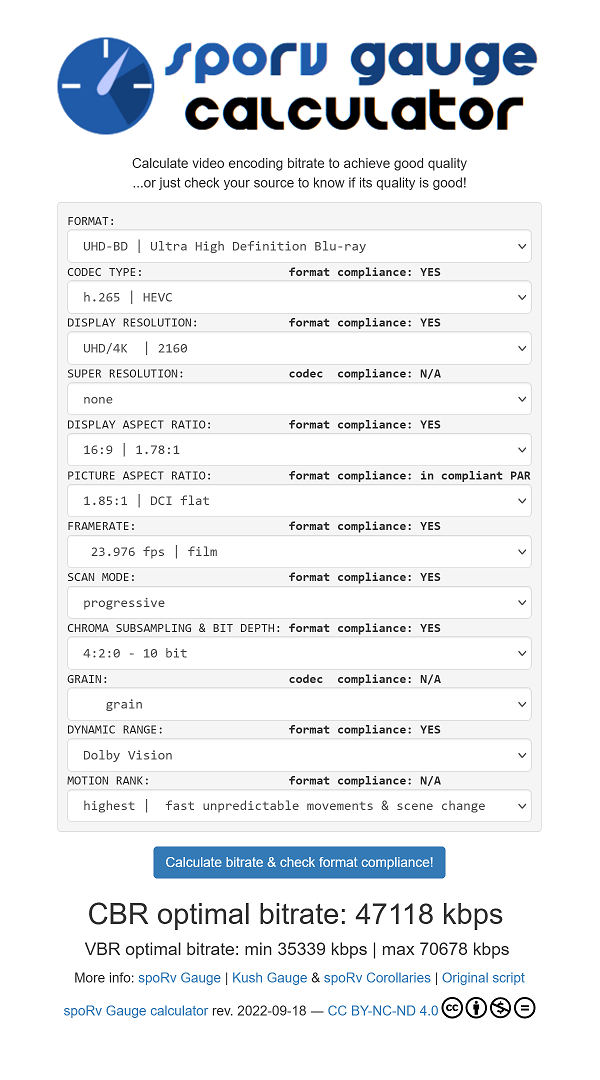 Revised version: 2022-09-18
Super Resolution added
:
none

8:9

8:10

8:11

8:12

8:13

8:14

8:15

8:16

Picture aspect ratio name revised:
1.33:1 | 4:3

1.66:1 | European wide screen

1.78:1 | 16:9

1.85:1 | DCI flat

1.89:1 | DCI full

2.00:1 | Univisium

2.20:1 | Todd-AO

2.35:1 | Cinemascope

2.37:1 | Ultrawide Cinema

2.39:1 | DCI scope

2.55:1 | Cinemascope 55

2.66:1 | Cinerama

2.76:1 | Ultra Panavision 70

Suggestions are welcome!
Revised version: 2023-04-23
Stereoscopy added:
2D

3D | frame sequential

3D | full over-under

3D | full side-by-side

3D | half over-under

3D | half side-by-side

3D | anaglyph

Display Aspect Ratio added:
using the following resolutions:
UHD|8K - 10240×4320

UHD|4K -   5120×2160

FHD|2K -   2560×1080

Oh, now I see what you added in this iteration, I thought it was just stereoscopy, but see some other nuggets. Awesome update, for sure.
Thanks Amadian!
Just read this article: "
The State of Video Codecs 2023
" -
https://www.streamingmedia.com/Articles/...58116.aspx
The bitrate savings of the various codes (found on the table under 
Bandwidth Savings
) are pretty much the same I set for the calculator - difference is around 1% - so it seems I was quite spot on those values!
Users browsing this thread: 1 Guest(s)