In lieu of the 4K remaster and better sources becoming available, I'm officially canceling this project.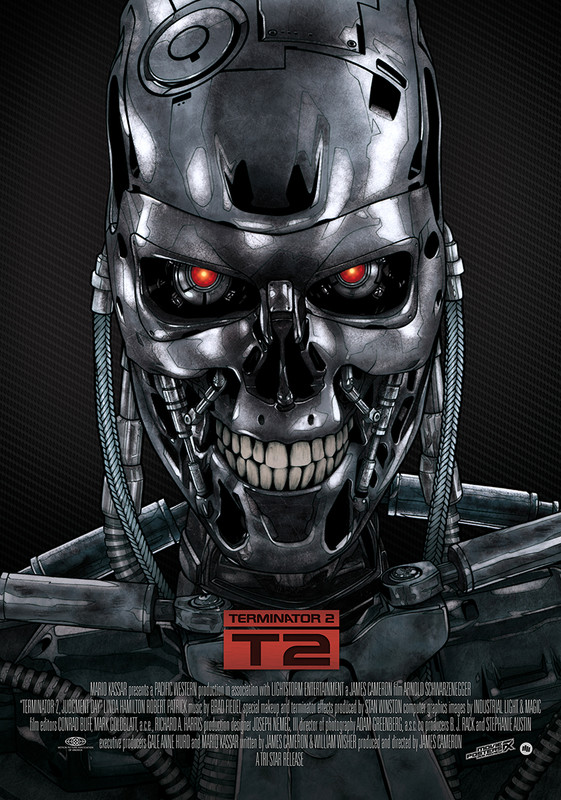 Project Info:
The genesis of this is here:
http://originaltrilogy.com/forum/topic.c...50/page/8/
I thought I try to regrade the current Blu-ray of Terminator 2 to look theoretically and hopefully more like a 35mm print using various sources.
Video:
2015 Blu-Ray of the Theatrical Cut (TC) regraded to various videos and
Audio:
1. PCM 2.0 (from a LD Source)
2. Dolby Digital 5.1 (From the Live DVD-The "CDS" soundtrack)
3. DTS 5.1 (from the jpn DVD-The "CDS" soundtrack)
4. Dobly Digital 5.1 (from the BD)
Subtitles:
TBD
Output:
MKV compatible within the spec for a 25GB BD
Pics:
BR/Regrade (Updated with new LUT)
[Image: t2_update_1_l.jpg]
[Image: t2_update_2_l.jpg]
Thanks:
Tservo: for the 35mm pics
BusterD: for the PCM track
MrBrown: for the DTS (CDS) soundtrack
---
So Servo posted these pics over on the OT from an ebay auction.

[Image: t2_b_1.jpg]

I notice how dark blue they were. You could say its wrong since you are not looking at these through a theater projector with a correct bulb but they do look strangely close to a 35mm print of True Lies. Going a little further I saw this video from a 35mm screening https://www.youtube.com/watch?v=tnEACdAr1rk which also has deep blues with sometimes purple in the mix. The also lack the orange bias that the BD has in the daytime scenes (the motorcycle chase, the Mexican scenes) and the steel factory. I then looked at various other frames from 35mm prints and the Derann Super 8mm , which looked blue but also had a touch of purple too.

I took this frame from the video recording:

Video
[Image: vlcsnap_2015_09_30_09h50m07s96_1.jpg]

I took that pic re-balanced it a bit and applied the colors to the BD to get this:

BD/Regrade
[Image: log_1_1.jpg]

From that regrade I built a LUT and applied it to the whole film, just to see what it would look like. Going off the video many scenes matched up or were closer:

Video
[Image: vlcsnap_2015_09_30_09h59m09s127.png]

BD/Regrade
[Image: log_r2.jpg]

Video
[Image: vlcsnap_2015_09_30_10h07m39s182.png]

BD/Regrade
[Image: log_r3.jpg]

Video
[Image: vlcsnap_2015_09_30_10h08m21s25.png]

BD/Regrade
[Image: log_r4.jpg]

Video/BD/Regrade
[Image: log_r5.jpg]
[Image: log_r6.jpg]

Some comparisons to 35mm frames

35/BD/Regrade
[Image: log_r7.jpg]

Some comparisons to an 8mm projection to come

Its not perfect but there is a good middle ground between the video the, 35mm frames and the 8mm frames. I was surprised how the one LUT was able to capture that middle ground so well.