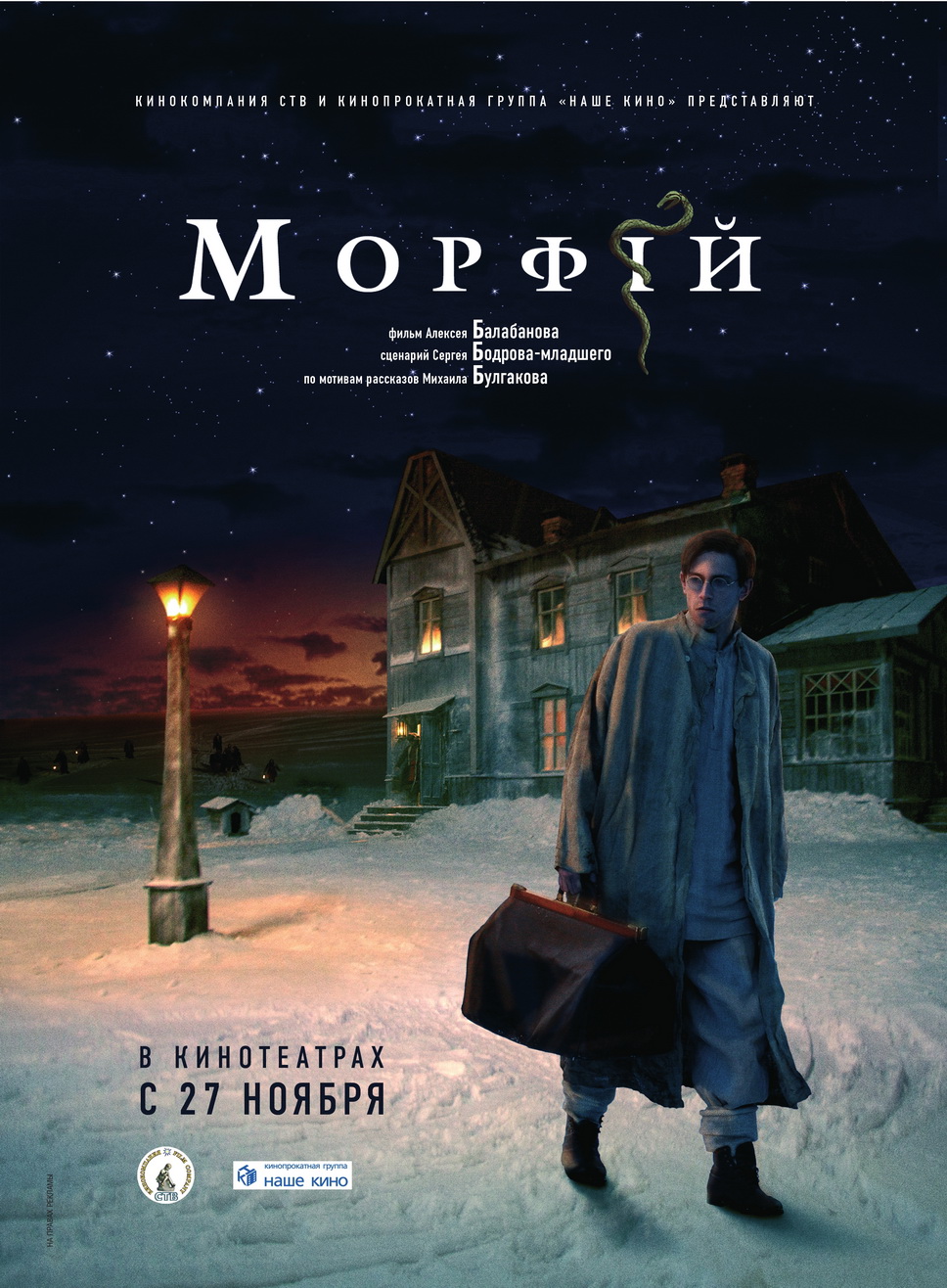 Morphine is movie directed by Alexei Balabanov - Russian cult director - which is mostly known for
Cargo 200
and
Brother
. The film itself is based on semi-autobiographical short stories by Mikhail Bulgakov.
Powerful and bizarre tale of the young medical doctor sliding into the abyss of drug addiction as the country around him slides into the horrors of civil war. Even so the revolution and the war is hardly shown in the movie (which is set in a small Siberian village), one could feel it's dark presence in every scene, every dialogue. Surprisingly well captures the spirit of autobiographical novels of Mikhail Bulgakov, Russia's greatest and most controversial author of the 20th century. Strongly recommended for everyone who enjoys Bulgakov, Dostoevsky, classical Russian literature and history. Also, it's a great tribute to the director/screenwriter Sergei Bodrov Jr. who died so tragically at the height of his career.
So the movie never received real HD release. Only HD transfer that exists is one on Russian iTunes, and it has lots of flaws that I managed to minimalize or completely get rid of. The worst issue from all is crushed blacks and the horrible color timing that doesn't even come close to what is seen on DVD release of this movie.
Using
DrDre's Color Correction tool
I managed to correct it. Then with some AviSynth plugins and other programs I came to result that is noticeable better than it's source.
DVD (cropped to match iTunes)
iTunes (raw)
iTunes (color corrected)
Final
I synced the DVD audio from original DVD to this release as well as Polish voiceover ripped from TV. What is interesting is that DVD was actually PAL speedup, but it wasn't big issue. I used English subtitles from AsianDVDClub Custom DVD as well as many others custom subtitles I could find throughout the internet. I can only confirm that English and Polish ones are very good translations though, as they are the only languages I speak
Audio:
Russian - 5.1 DTS sourced from DVD @ 1536 kbps
Russian - 2.0 AC3 sourced from DVD @ 192 kbps
Polish voiceover - 2.0 AC3 sourced from TV @ 448 kbps
Subtitles:
Russian
English
Spanish
French
Polish
Czech
Bulgarian
Croatian
Hungarian
Romanian
Greek
Chinese (T)
Arabic
Screenshots
:
I am in process of authoring the disc right now and it should be done within few upcoming days. It will be available on MySpleen.
(This post was last modified: 2015-11-29, 12:29 PM by Colek.)