Currently up on Karagarga and MySpleen. The images look smushed, but that is VLCs fault, the discs
are
in the correct aspect ratio.
"This should be as complete a mainstream filmic picture of the life and death of Sid Vicious as currently can be provided. See the notes below or take a look at the sources page also below.
Yes, you have the movie and virtually every extra created for any of the discs worldwide, but also tons of other material about Sid Vicious from the documentaries made about him and The Sex Pistols and all of their music.
As you can imagine, this took forever to put together, and eventually was made with many different types of DVD authoring software. I'm not happy with the visual clarity of the text on disc 2, which was the unavoidable downside of using DVD Lab Pro, which is pretty great in all other ways. However, rather than scrap the whole project, I decided that it was worth sharing, as everyone can do a little squinting from time to time. For those who think they have a solution, I talked with DVD Lab Pro experts and followed their directions, using the fonts and color schemes they suggested, importing flattened PSDs into DVD Lab Pro, and still got the same results.
The variety of clips that I've cut together from the various documentaries and mockumentaries about Sid Vicious and Nancy Spungen are usually accurately described by the title, are not a reflection of what I think, but should give you an overall picture of the many ways the same stories can be told from various perspectives, and because I've already gone through them, it means you don't have to watch some of the more navel gazing and tedious indulgences of the directors behind The Great Rock N' Roll Swindle, Who Killed Nancy?, the cynical cash-in Who Killed Bill?, and Abel Ferrara's Chelsea on the Rocks.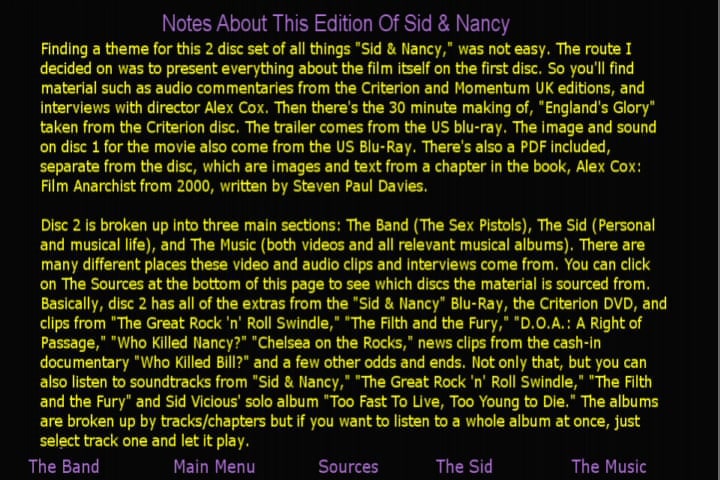 Morbid biographical story of Sid Vicious, bassist with British punk group the Sex Pistols, and his girlfriend Nancy Spungen. When the Sex Pistols break up after their fateful US tour, Vicious attempts a solo career while in the grip of heroin addiction. One morning, Nancy is found stabbed to death and Sid is arrested for her murder.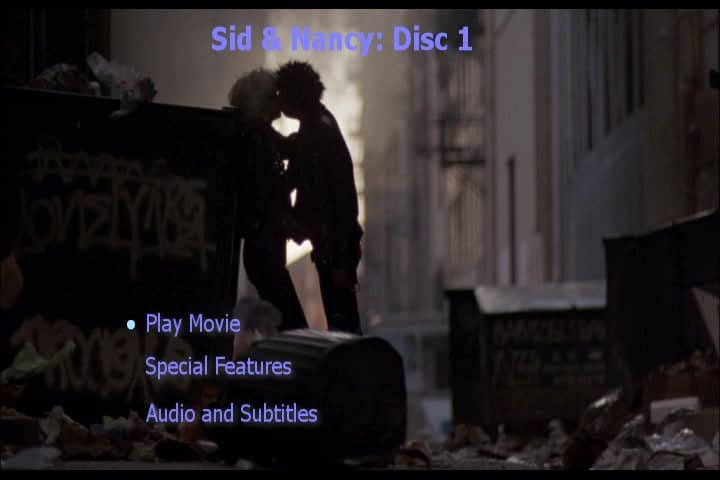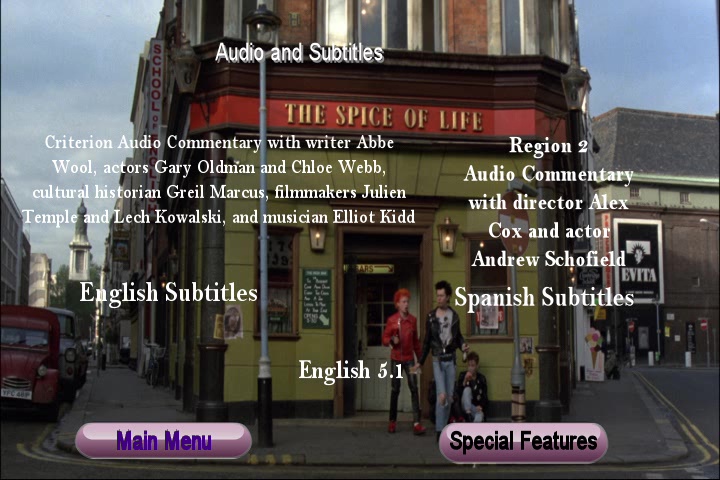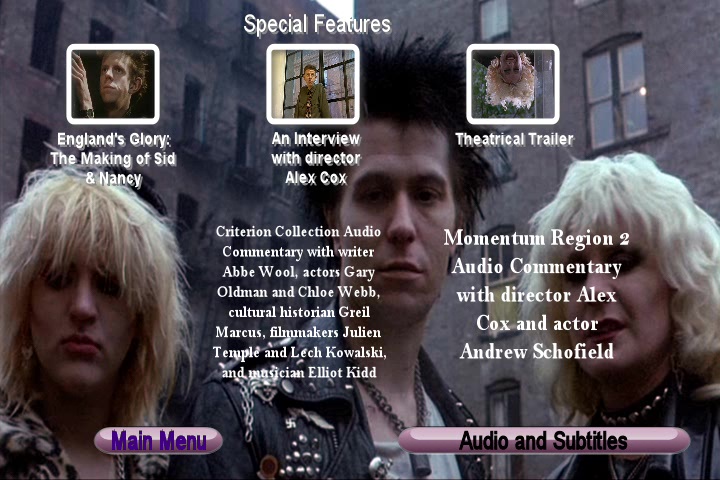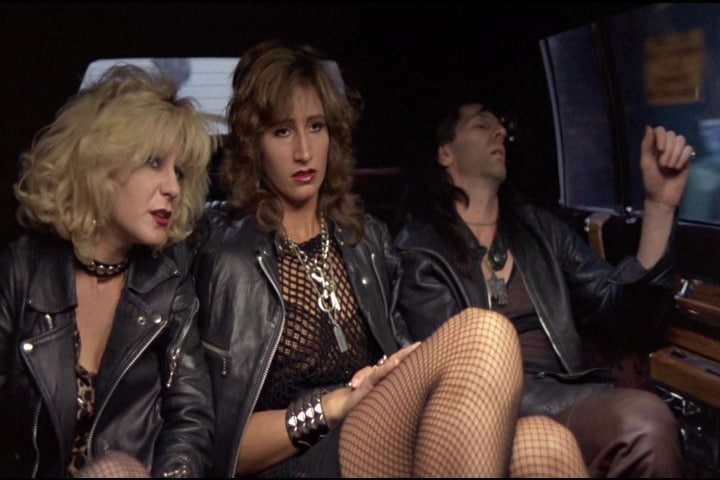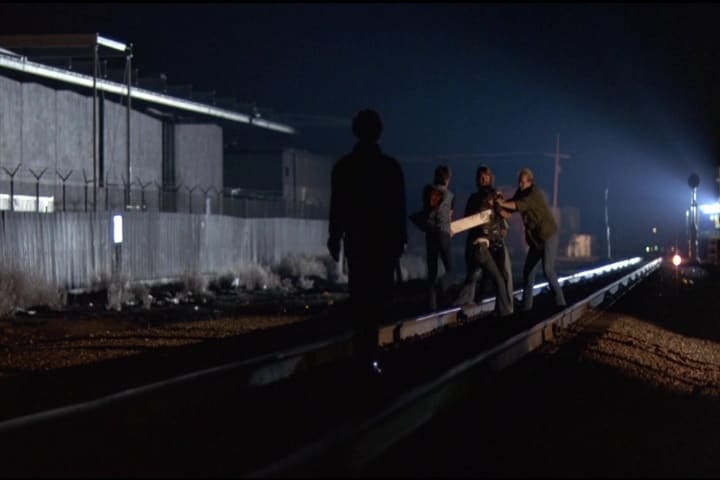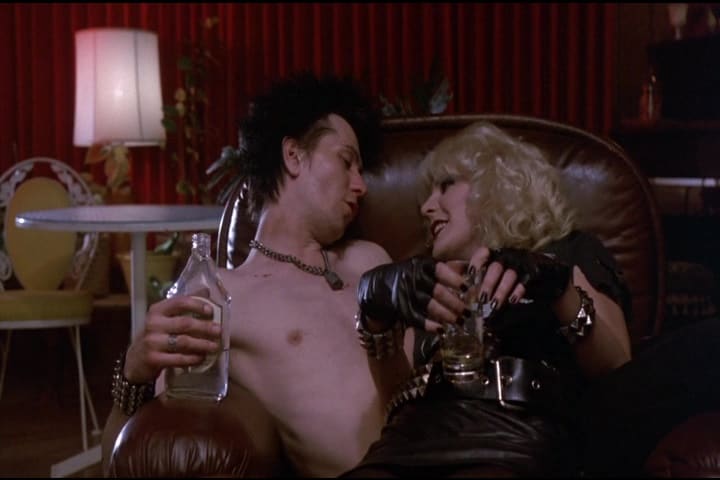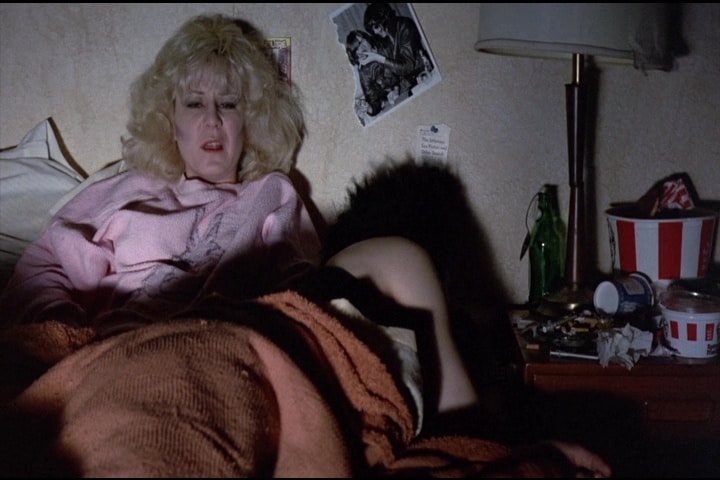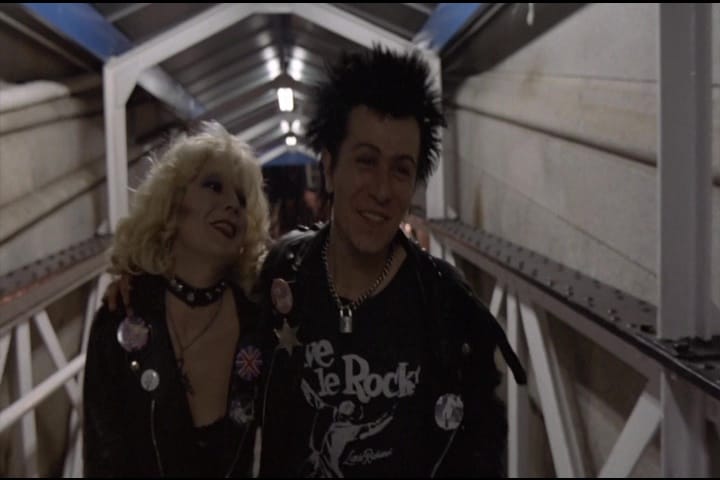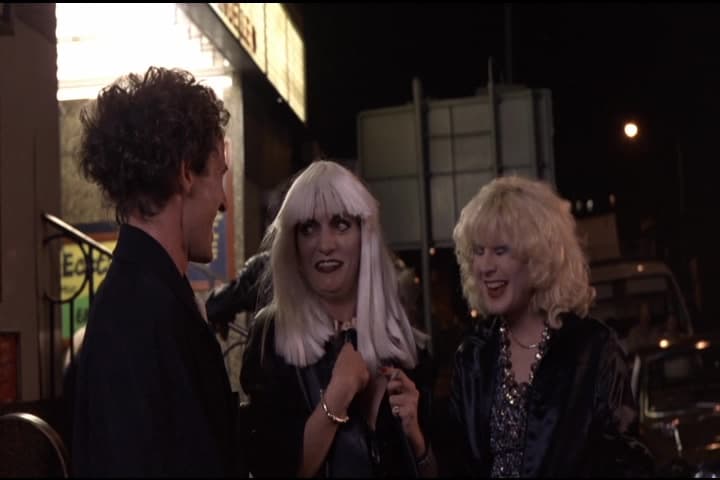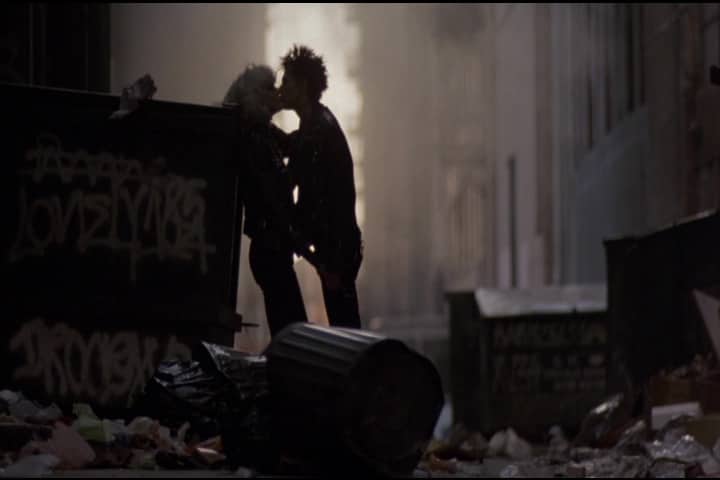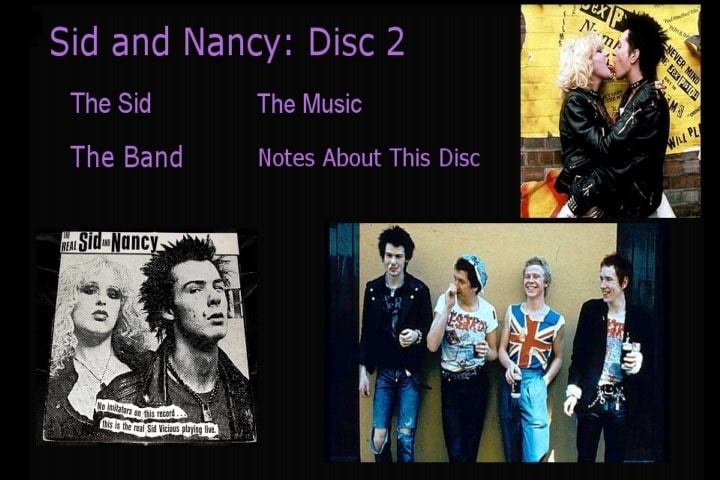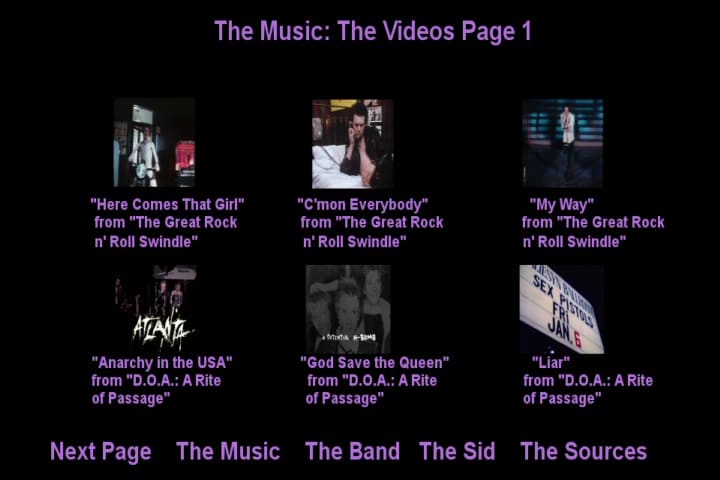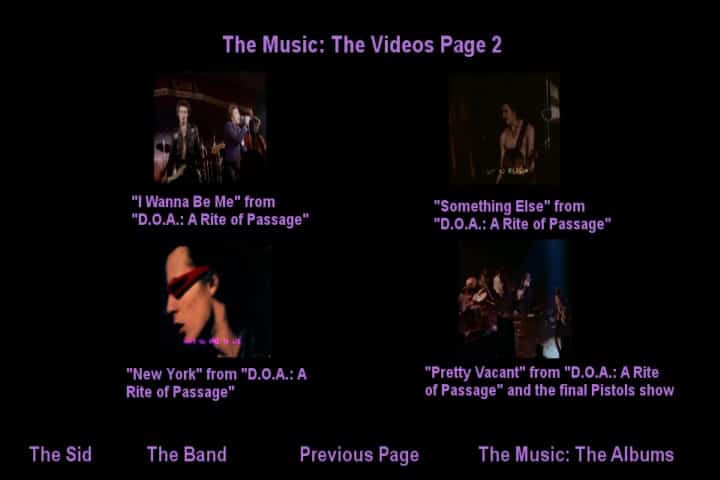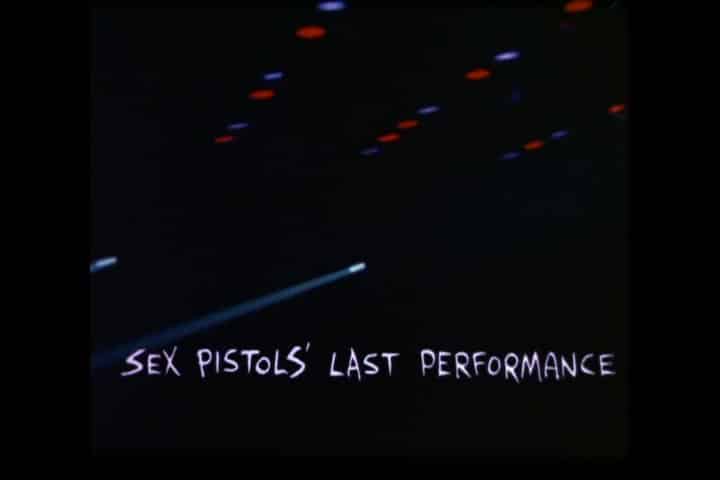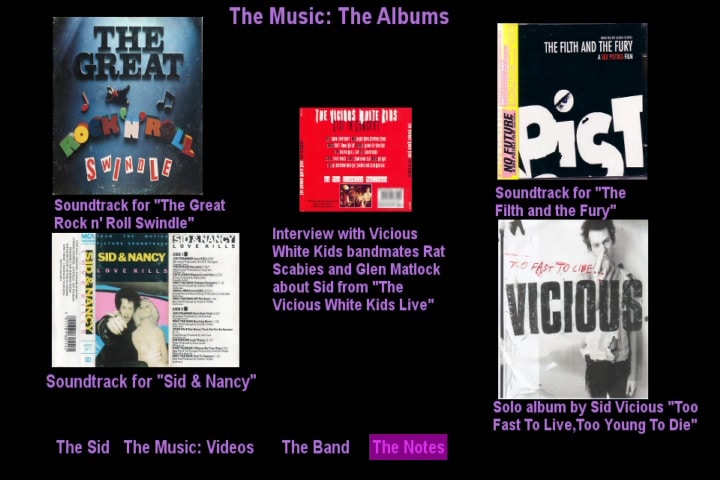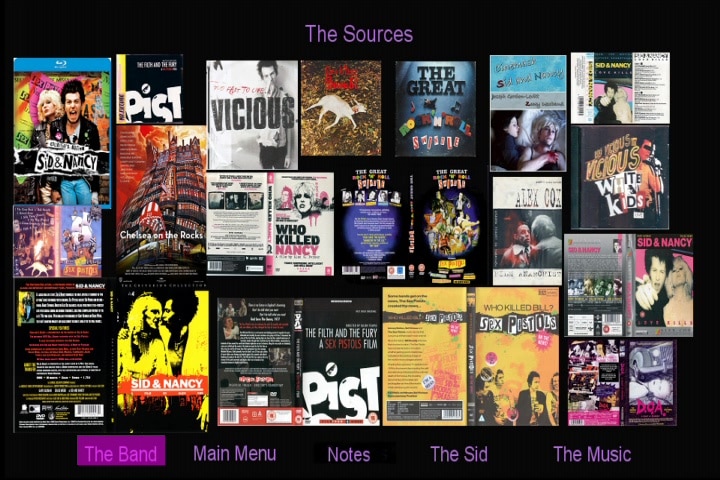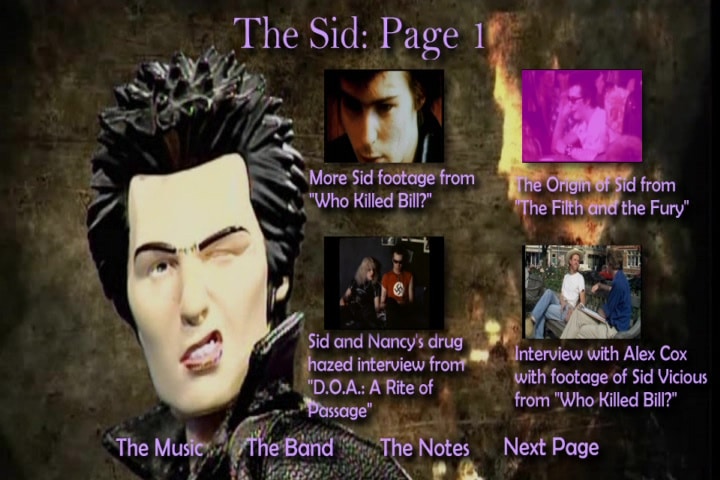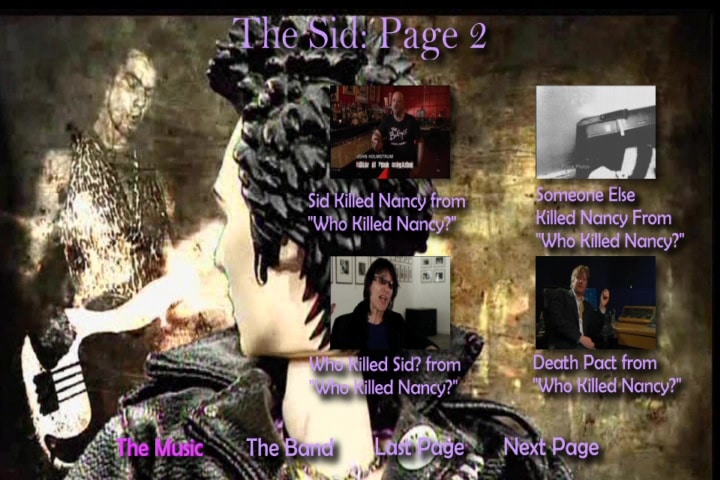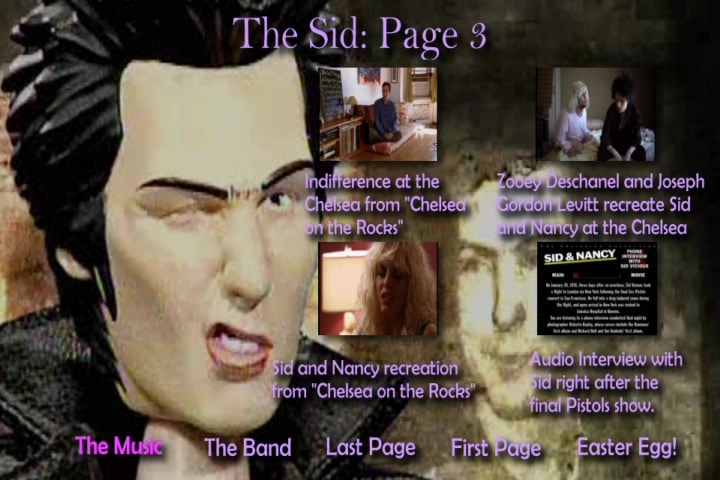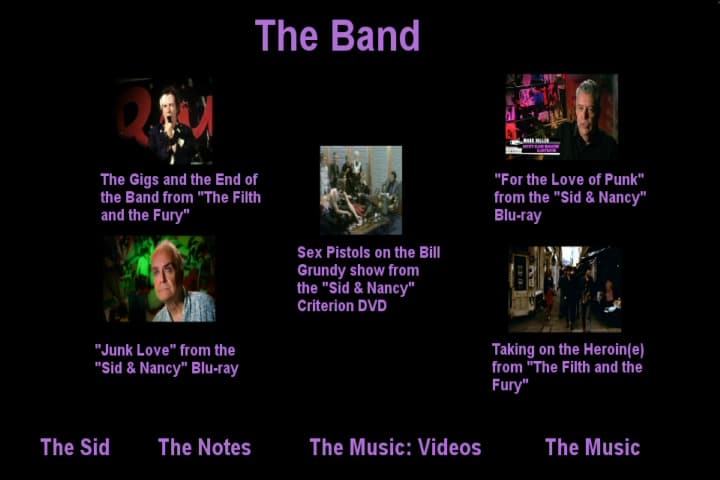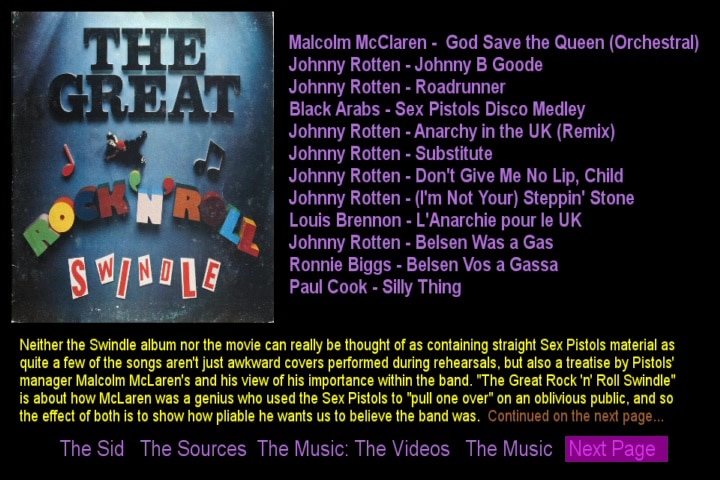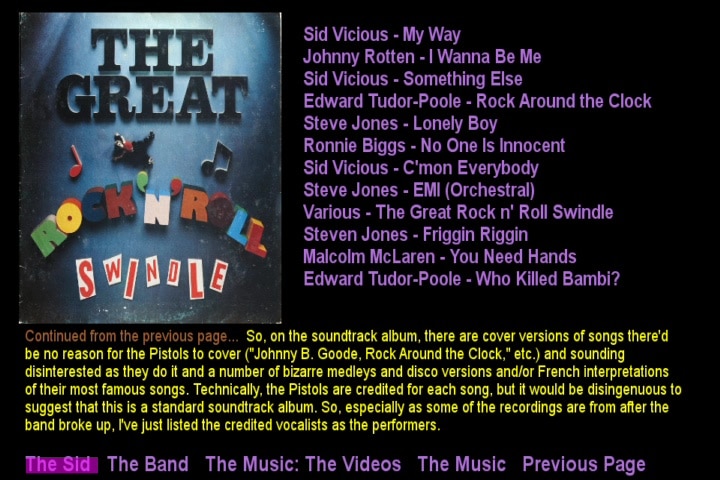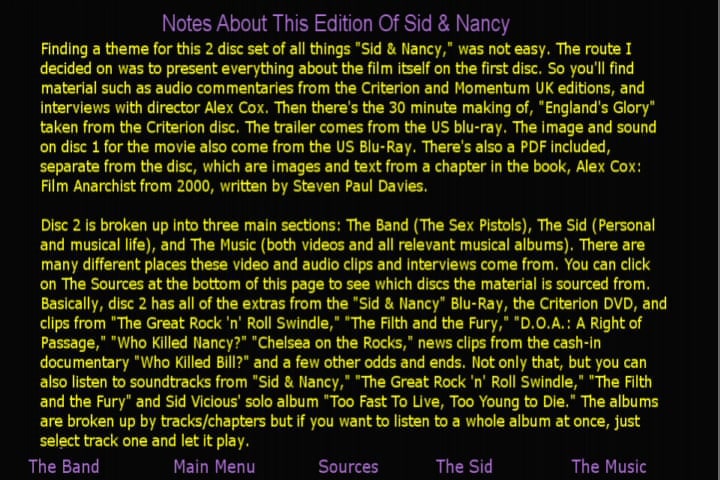 Extras: Criterion Collection Audio Commentary with writer Abbe Wool, actors Gary Oldman and Chloe Webb, cultural historian Greil Marcus, filmmakers Julien Temple and Lech Kowalski, and musician Elliot Kidd
Audio Commentary from Momentum R2 UK featuring director Alex Cox and actor Andrew Schofield.
All extras from the Criterion collection, including an audio interview w/ Sid Vicious, the Bill Grundy show clip, and "England's Glory" the making of Sid & Nancy
10 minute interview with director Alex Cox [from the Momentum R2 UK disc].
Theatrical Trailer
For the Love of Punk [15 minute interview piece originally on the MGM special edition]
Junk Love [15 minute interview piece originally on the MGM special edition]
Clips from The Filth and the Fury, The Great Rock N' Roll Swindle, DOA: A Right of Passage, Who Killed Bill?, Who Killed Nancy?, Chelsea on the Rocks, and a few other random places, including the skit where Zooey Deschanel and Joseph Gordon-Levitt play Sid & Nancy (in that order) during their final days at the Chelsea Hotel.
Full soundtrack albums from Sid & Nancy, The Filth & The Fury, & The Great Rock N' Roll Swindle.
Full Sid Vicious solo album, Too Fast to Live, Too Young To Die.
Taken from a Sid Vicious live solo album, a 30 minute audio interview with Rat Scabies and Glen Matlock, who toured with him.
Live performances from The Sex Pistols, taken from DOA: A Right of Passage.
Music videos featuring Sid Vicious from The Great Rock n' Roll Swindle.
A chapter from Alex Cox: Film Anarchist. This is in PDF form separate from the DVDs as reducing the resolution to 720x480 and presenting them in slideshow format made them impossible to read. Some creative editing has taken place to make everything legible anyway. You'll know it when you see it.
There's probably more stuff too, but you're no doubt exhausted reading this.
DVD Format: NTSC
Audio..............: English 5.1, Commentary, Commentary
Subtitles..........: English, Spanish
Video Format.......: NTSC
Film Aspect Ratio..: 1.85:1
DVD Format.........: Anamorphic
Source.............: Multiples DVD9s
Film Distributor...: Custom
Ripping Program....: DVD Styler/DVD Lab Pro/DVD Shrink/TMPEG Video Mastering Works/Etc.
Average Bitrate....: Various Mb/sec
Disc 1 Averages about 7MB for the movie itself."